International Pet Movement Compliance
Create, validate and share compliant international pet travel documents.
Valid documents for international travel with cats and dogs from the USA.
Don't waste time researching requirements
Get the support you need, when you need it
Decrease errors and re-work by over 50%
Reduce paper use with cloud-based software
Ensure clients have the documents they need
One cloud-based platform for animal health documentation, with no subscription fee or monthly minimums.
The Help and Support You Need
We've done the hardest work for you by:
understanding international travel documents

researching each country's requirements

ensuring our documents are valid and accurate

gathering the resources you need
Our support for countries includes guidance on:
US travel documents

rabies vaccination certificates

international health certificates

APHIS forms and other required materials
Our team helps with all country requirements and provides unmatched support every day from 7:00 a.m. to 7:00 p.m. (CST).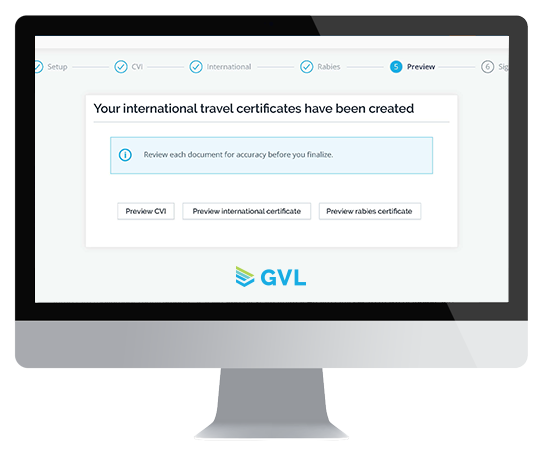 Countries with built-in requirements
At this time, these countries are in the GVL platform with built-in requirements:
Austria
Belgium
Bulgaria
Canada
Canary Islands
Croatia
Cyprus
Czech Republic
Denmark
Estonia
France
Germany
Greece
Guadeloupe
Hungary
Italy
Latvia
Lithuania
Luxembourg
Mexico
Netherlands
Poland
Portugal
Romania
Slovakia
Slovenia
Spain
Sweden
Switzerland
For countries without built-in requirements, our excellent customer support team can help guide you through the necessary documentation.
The GVL Customer Success Team is available via chat, email or phone every day from 7:00 a.m. to 7:00 p.m. central time.
Chat with GVL
Login to GVL and chat with a member of the support team. You can also email gvlsupport@globalvetlink.com or call 515-817-5704.
The new GVL Pet TravelPass take the anxiety and guesswork out of domestic and international pet travel. Check out this post to learn more.
Check out the August Support Report from our Customer Success Team!
We're looking forward to WVC! Are you attending? Connect with us at booth 1023.