As part of the GVL blog, we're featuring our employees so you can get an inside view into what keeps GVL running. We are very proud of our team and excited to share some of our employee profiles with you.
Today we're featuring GVL Territory Manager Tyler Eagan.
Tyler is the GVL Sales Territory Manager for the US Midwest and for Canada. He was integral in launching GVL's digital Equine Infectious Anemia (EIA) tests in Canada, and has grown over his three year career at GVL to be an expert in all of the platform's solutions and services.
Get to know Tyler better:
"For as long as I can remember, I've always been a people person, so a career in sales is perfect for me. I've been in sales for around seven years, and I enjoy the business mindset needed for the job. I started with GVL soon after graduating from Iowa State University in Ames, Iowa. Of all the things that I love about working at GVL, my favorite part is having real conversations with people and understanding how the solutions we provide truly help them in their processes. Being a sales territory manager at GVL, I get to have so much interaction with our customers, and I feel blessed to get to hear their experiences and insight. It's really fun to get a call from a customer after they have started on the GVL platform and they tell me, 'I have no idea why I did paper certificates for so long — your system has sped up our processes tenfold!' These kinds of stories remind me of the importance of what we do here, and I really value the relationships I have with clients. I love to golf whenever I can, so I always have an open invitation to clients to join me on a course in Ames. I also have a beautiful fiancé who I am actively wedding planning with, so free time is definitely limited!"
From GVL National Sales Manager Ron Lane:
"Tyler brings great enthusiasm and a customer first attitude to his position as a territory manager. He's a great team player and is constantly challenging himself to be better than he was the day before. In my two years of managing Tyler, he has displayed a willingness to help out in any aspect of the business that he can. One of the things I enjoy most in my position as National Sales Manager is seeing talented employees like Tyler advance in their careers, and his journey has been no exception."
From GVL Chief Revenue Officer Brett Keirstead:
"We love having Tyler on the GVL customer journey team, and he really is an invaluable asset to our organization. He's a team player, willing to step into any role needed and collaborates with his coworkers on cross functional projects regularly. Tyler has taken on more responsibility over the last year and has approached every challenge with passion and a strong work ethic. He is passionate about customer satisfaction and goes above and beyond to ensure that his clients' needs are met. We appreciate Tyler here at GVL and look forward to his continued success in the future!"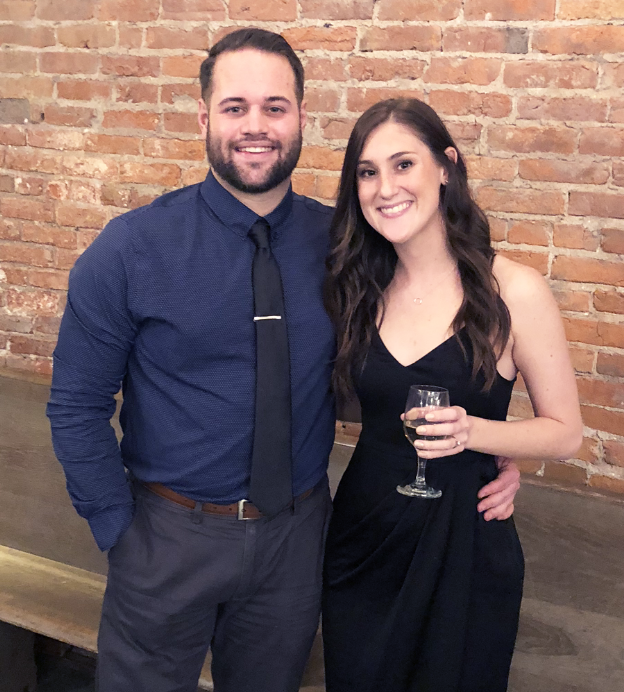 Tyler and his fiancé, Katie
Have questions or want to learn more? Explore the GVL help center for informational articles, useful resources, Frequently Asked Questions and find what you need. You can also contact our customer success team.