Our Solutions
GlobalVetLink is the leading digital animal health company. Over 180 million animals per year in the pet-wellness and the U.S. production animal food chain utilize GlobalVetLink's blockchain health records for state, federal, and international health compliance.
As government regulations become more prevalent in the animal health industry, we continue to develop digital solutions in companion animal, equine and production animal industries that help ease the stress of compliance, while also assisting in disease traceability and data management.
Within the GlobalVetLink platform, users can digitally create and validate:
We also provide the leading vet diagnostic aggregation and data analysis solution, LabLink HIMS, for herd health management.
Compliant Digital Animal Health Made Easy
Easy
Simplified workflows with intuitive navigation and processes.
Efficient
Built-in rules and requirements for quicker, more accurate work.
Secure
Digital signature technology prevents certificate fraud.
Accessible
Cloud-based, mobile responsive platform for work from any device.
Compliant
Meets FDA and USDA requirements and regulations (plus our CVIs are accepted by all US states).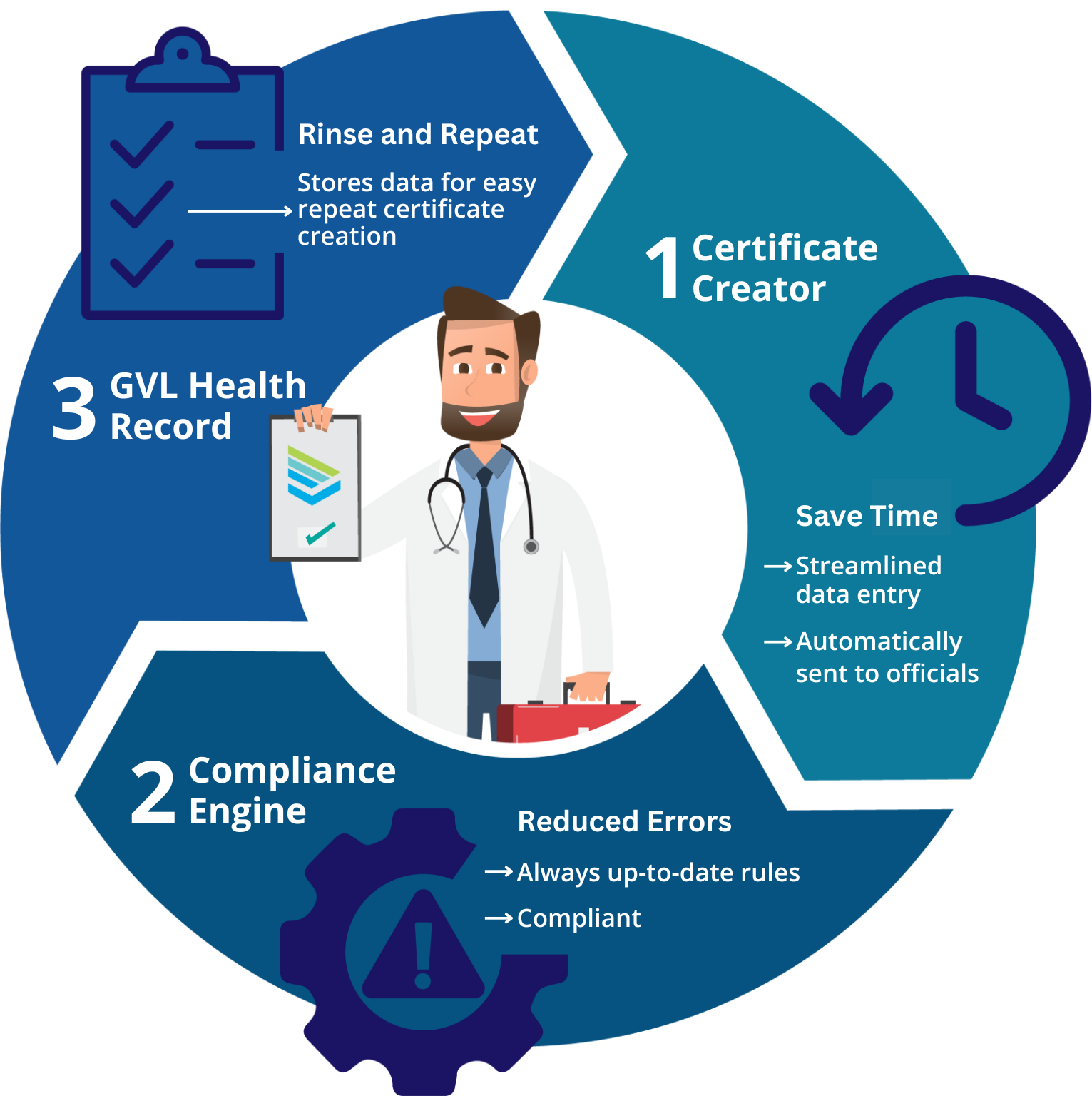 Meet the Team
The GlobalVetLink team works with our customers daily to empower animal health stakeholders to quickly and accurately access, create, and submit animal health data and documentation.
Meet the Expert Council
The GlobalVetLink Expert Council is made up of licensed veterinarians and industry leaders who ensure that our platform and solutions offer the most value to the industry.
GVL University
GlobalVetLink University offers free regulatory compliance education and practice for veterinary professionals.
Our History
GlobalVetLink, L.C. (GVL®) was founded and headquartered in Ames, Iowa in 1999 by Kevin Maher. His vision was to replace an antiquated paper-based animal health regulatory process with an official, secure digital software system that would be accessible real-time online.
In 2001, we became the first web-based software system in Florida to provide veterinarians, animal health authorities and animal owners with the legal documentation to transport animals both interstate and intra-state.
Since 2001, we've been providing online applications to enable veterinarians and animal health practitioners, state authorities, diagnostic laboratories and other animal health officials to build, access, and monitor animal movement records with ease and efficiency.
The first digital software applications available through GlobalVetLink were companion and food animal Certificates of Veterinary Inspection (CVIs), known as health certificates or eCVIs, which are a secure alternative to USDA APHIS 7001 forms, as well as Equine Infectious Anemia (EIA) certificates, often referred to as Coggins.
Today, all U.S. states and territories accept GVL health certificates as official animal documentation. GVL's product portfolio expands beyond EIA certificates and CVIs to include international health certificates, veterinary prescriptions, Veterinary Feed Directives (VFDs), Extended Equine CVIs (EECVIs, six-month equine health certificates, ForSale pet documents, and veterinary diagnostic results aggregation and analysis tools).
We are the nation's leader in digital animal records with millions of animals transported within the U.S. using GlobalVetLink certificates. GVL users continue to improve their business processes, enhancing animal traceability, ensuring regulatory compliance and contributing to animal wellness and safety.
GlobalVetLink products and services are accessible through any device with access to a web browser, or through participating practice management software vendors. GVL continues to explore new opportunities to partner with industry leaders to provide innovative digital solutions for animal health.
1999
GlobalVetLink founded by Kevin Maher
2001
Digital Health Certificates (CVIs) introduced
2002
Digital EIA/Coggins Tests introduced
2005
Digital Veterinary Feed Directives (VFDs) introduced
2009
Secure Digital Signature technology introduced
MyVetLink Animal Owner portal launched
2010
All 50 states accept digital CVIs from GlobalVetLink
2013
GlobalVetLink upgrades technology and launches new platform for users
2014
GlobalVetLink acquires Health Information Management System, LabLink HIMS
Built in domestic movement requirements powered by SmartEngine
National Merit Award for Interactive Marketing Tool from the National Agri-Business Marketing Association (NAMA)
Technology Company of the Year Prometheus Award from the Technology Association of Iowa
2016
Digital Veterinary Prescriptions introduced
2017
GlobalVetLink digital EIAs accepted in Canada
Software Company of the Year & AgTech Company of the Year Prometheus Award from the Technology Association of Iowa
2018
Transition to AWS (Amazon Web Services) to assist with data security and platform functionality
Software Company of the Year Prometheus Award from the Technology Association of Iowa
2019
GlobalVetLink Platform Upgrade
Extended Equine Certificates of Veterinary Inspection (EECVIs) launched
2020
Digital Rabies Vaccination Certificates launched
GlobalVetLink EIA Tests Approved by USDA for New Guidance
CEO of the Year Prometheus Award from the Technology Association of Iowa
2021
GVL Pet TravelPass for International Pet Travel launched
2022
GVL Pet TravelPass for Hawaii Pet Travel launched
GlobalVetLink earns SOC2 Compliance