During Black History Month, the American Veterinary Medical Association (AVMA) is spotlighting the contributions of black veterinarians in improving animal and human health while continuing the association's efforts to increase diversity, equity and inclusion (DEI) within veterinary medicine.
---
Throughout the month, the AVMA will be using its social media channels to spotlight these pioneers of the profession, past and present. Some of those to be featured include:
Dr. August Nathaniel Lushington believed to be the first Black person to earn a Doctor of Veterinary Medicine degree in the United States upon his graduation from the University of Pennsylvania in 1897.
Drs. R.V. Cannon and J.G. Slade became the first Black members of the AVMA in 1920.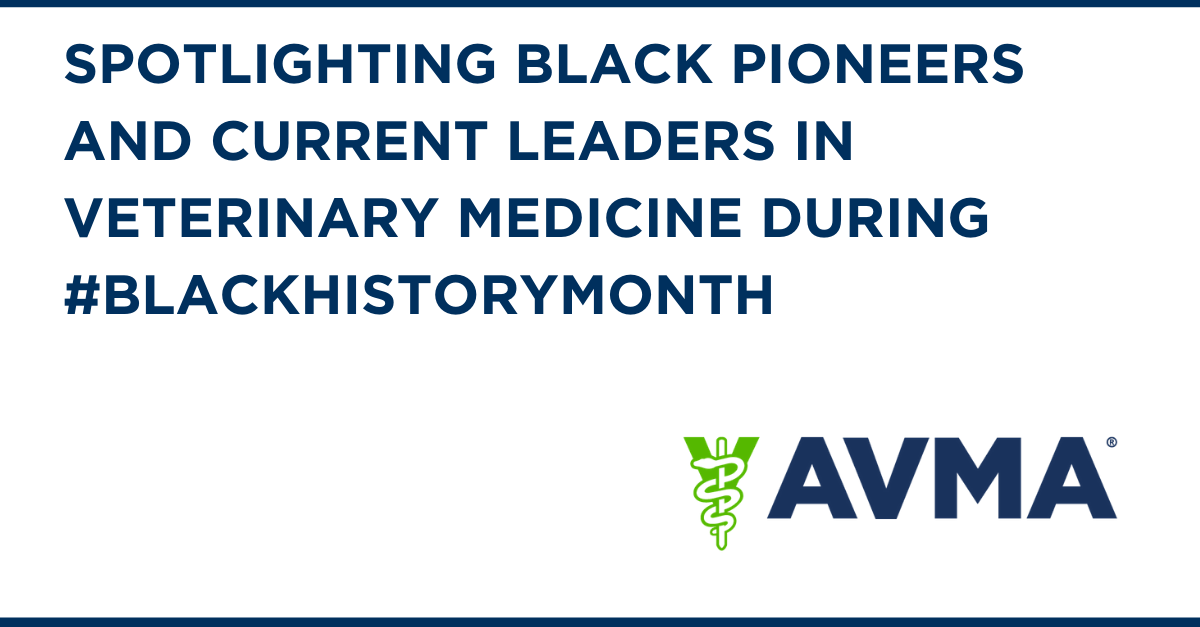 Between 1900 and the establishment of the veterinary college at Alabama's Tuskegee Institute in 1945, Kansas State, Iowa State, Michigan State, Cornell and the University of Pennsylvania accepted and educated about 70 young Black veterinarians, who formed the core of mentors and role models for the succeeding generations of African American veterinarians.
Dr. Frederick Douglass Patterson, born in the same neighborhood as his namesake, the great orator and ex-slave Frederick Douglass, was orphaned at age two. After being passed around by well-meaning relatives, he was raised by his sister in Texas. His sister valued education and sent him to school, costing eight dollars of her 20 dollars a month salary. Dr. Patterson earned his DVM and M.S. from Iowa State College in 1923, and by age 31, his Ph.D. from Cornell University. Dr. Patterson became President of Tuskegee Institute and oversaw the institute's elevation to Tuskegee University. While president of Tuskegee University, Dr. Patterson was the founding Dean of the Tuskegee School of Veterinary Medicine in 1944, the same year he also founded the United Negro College Fund (UNCF).
Dr. Lloyd B. Mobiley served in the Federal Meat Inspection Service and was an officer in the U.S. Army Veterinary Corps during World War II. He was appointed head of the Department of Anatomy and subsequently surgery at Tuskegee Institute. One of Dr. Mobiley's most significant contributions was introducing the intramedullary pin and other orthopedic surgical devices used in the repair of long bone fractures.
Dr. Alfreda Johnson Webb and Dr. Jane Hinton were the first Black women to become Doctors of Veterinary Medicine in the United States.

Dr. Webb, upon her graduation from the Tuskegee School of Veterinary Medicine in 1949, became the first Black woman to graduate from veterinary school and then licensed to practice veterinary medicine in the United States. Dr. Johnson Webb remained at the Tuskegee Institute, where she taught anatomy until 1959, completing her tenure as an associate professor. Dr. Johnson Webb then served as a professor of biology at North Carolina Agricultural and Technical State University (NCA&T). Dr. Webb was a member of the planning committee that founded the School of Veterinary Medicine of North Carolina State University that opened in 1981. Dr. Johnson Webb also served as a legislator, becoming the first African American woman in the North Carolina General Assembly.
After graduating from the University of Pennsylvania's School of Veterinary Medicine, Dr. Hinton practiced as a small animal veterinarian in Canton, Massachusetts, and then served as a federal government inspector.

Dr. Walter Bowie earned his DVM degree from Kansas State University in 1947, M.S. and Ph.D. degrees from Cornell University, and completed post-doctoral studies at The University of Michigan. A renowned researcher in comparative cardiovascular studies, he established the Cardiovascular Research Center at the Tuskegee veterinary school in 1964, funded by the National Institutes of Health and NASA. Dr. Bowie was elected president of the American Association of Veterinary Physiologists and Pharmacologists in 1964. Dr. Bowie, elevated to dean at Tuskegee veterinary school, was a lifelong educator, was instrumental in creating the NIH National Center on Minority Health and Health Disparities. He helped provide veterinary medical education to students from developing countries who returned to their native lands, where they offered veterinary medical care and established veterinary medical schools.
Dr. Iverson Bell was a World War II veteran and in 1949, graduated from Michigan State University's School of Veterinary Medicine and taught at the Veterinary School at Tuskegee Institute. Dr. Bell believed in community, spending more than 30 years working as a veterinarian and a civic leader for the city of Terre Haute, Indiana, and in 1984, was called "one of the most contributing members of our community" of Vigo County, Indiana. Dr. Bell was the first Black person to serve as vice president of the AVMA, from 1971-1973.
---
More information on AVMA's DEI efforts can be found at AVMA.org/Diversity.