North Dakota state animal health officials now accept Extended Equine Certificates of Veterinary Inspection (EECVIs), six-month health certificates for equine interstate movement. The EECVI program, launched by a number of state animal health officials in 2019, now has 32 US states participating.
EECVIs allow horse owners to move for up to six months, instead of the 30 days a regular health certificate provides. Through the GlobalVetLink software platform, veterinarians in participating states can create an EECVI, submit it to their state animal health official, and provide owners with online access to create their travel permits 24/7.
Why acceptance of EECVI continues to grow among veterinarians, horse owners and state animal health officials
---
Equine owners move frequently, and the EECVI program helps to make those movements easy. This program eases the burden on veterinary practices, who would typically have to write multiple health certificates a month for their frequent travelers.
Our customer success and product teams work continuously to gain user feedback to understand what users like about our platform, as well as what we can update to better meet our user's needs.
Here's what we hear about EECVIs from veterinarians and clinic staff:
Super easy process for the veterinarian, client and state animal health official.
Clients love the value of a six-month health certificate with one vet visit.
Simple photo upload and data collection through GVL HorseSync app.
Follow up and communication with clients is easier than ever.
---
Learn More About EECVIs and Earn Free CE Credit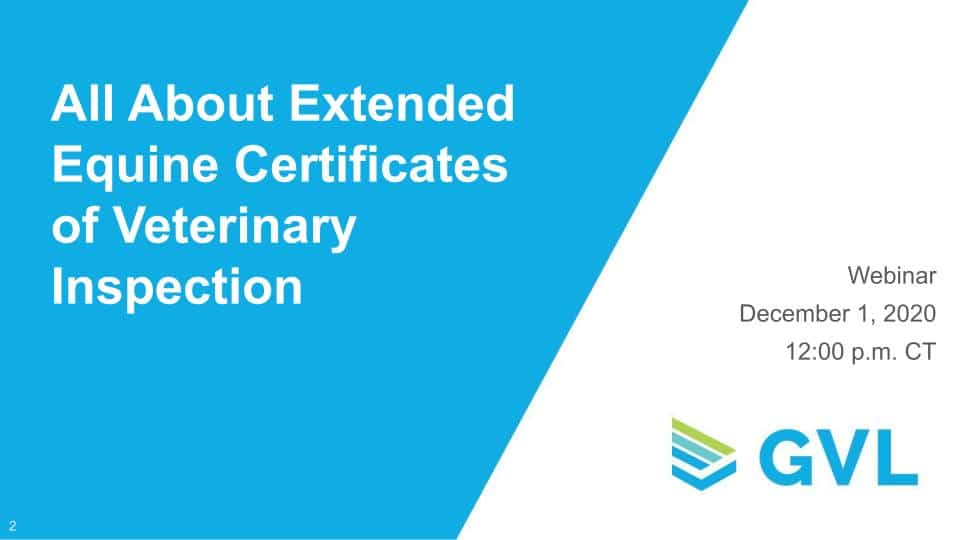 All About Extended Equine Certificates of Veterinary Inspection Webinar
Watch this webinar to learn about:
History of EECVI program
Recap of first two years
Adoption of EECVIs
Demonstration of EECVI program