When it comes to traveling out of the US with pets, veterinarians are challenged with helping their clients understand the various requirements for the destination country. Each country has its own unique rules and regulations around animals, and it's time consuming to research what those include.
"There are unique risks with international pet movement that present challenges for veterinarians," says Dr. Brenda Flaming, practicing veterinarian in Ames, Iowa. "The last thing we want is for our clients to get stuck in customs with their pets, but that is a concern."
Even though travel is at a minimum right now due to the impact of COVID-19, when animal movement eventually resumes and clients are taking those long awaited trips, we want veterinarians to feel secure in providing international health certificates.
That's why we're launching international pet movement compliance in the GVL platform now.
---
"Our customers have often expressed how confusing, stressful and time consuming international health certificates are," explained Stacey Noe, product manager at GVL. "So we set out to provide the industry with a simple solution for compliant international pet movement that saves time and removes uncertainty from the process."
With the GVL platform, users can easily create and share valid documents for international pet travel (canine/feline) from the US. Built-in country requirements help ensure compliance and reduce errors, and our expert support team provides help every day from 7:00 a.m. to 7:00 p.m. (CST).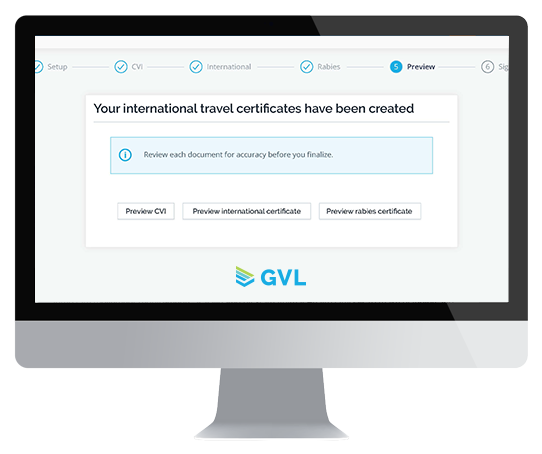 GVL International Pet Movement
Don't waste time researching requirements
Get the support you need, when you need it
Decrease errors and re-work by over 50%
Reduce paper use with cloud-based software
Ensure clients have the documents they need
"Time spent on researching country-specific requirements alone can be daunting, as well as confusing," Dr. Flaming added. "As veterinarians, we want to ensure that we're doing our part to provide clients with everything they need for compliant and successful international travel."
The help and support you need
We've done the hardest work for you by:
understanding international travel documents
researching each country's requirements
ensuring our documents are valid and accurate
gathering the resources you need
Our support for countries includes:
US travel documents
rabies vaccination certificates
international health certificates
APHIS forms and other required materials