Extended Equine Certificate of Veterinary Inspection (EECVI)
Compliant horse travel for six months
All About Extended Equine Certificates of Veterinary Inspection (EECVIs)
Presented by Dr. Marty Zaluksi and Dr. Janemarie Hennebelle, this webinar (recorded 12/1/20) provides a history of the EECVI program, an overview of the first two years of the program and how veterinarians and equine travelers are adopting EECVIs.
This program has been approved for one hour of continuing education credit in jurisdictions that recognize RACE approval.
We compiled the questions and answers from the webinar on our blog.
Six month digital equine health certificates
Through the GVL platform, veterinarians can create an EECVI online, submit it to their state animal health official electronically and provide owners with online access to retrieve their travel permits 24/7.
Health certificate that lasts up to six months
Owners have 24/7 access in online account
Travel permits automatically submitted to states
Greater participation nationally and growing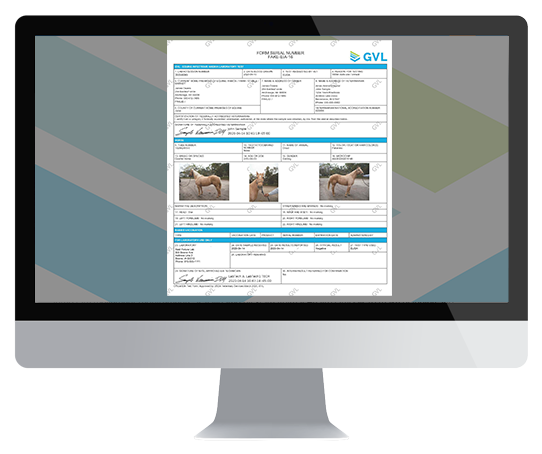 EECVI Participating States
Acceptance of these six month equine health certificates continues to grow among states. Find out why.
Participating states: AL, AR, AZ, CA, FL, GA, ID, IN, KS, KY, LA, MD, MN, MO, MS, MT, NC, NM, NY, OK, RI, SC, SD, TN, TX, UT, VA, VT*, WA, WV and WY. (*Vermont only participates May 1 – October 31.) Hover over a state in the interactive map to learn more about state ID requirements.
Watch a brief overview demo of digital Extended Equine Certificates of Veterinary Inspection (EECVIs) in the GVL platform for veterinarians. EECVIs function the same as regular health certificates, but allow horse owners to move for up to six months.
The states that are currently participating in the EECVI program include: Alabama, Arizona, Arkansas, California, Florida, Georgia, Idaho, Indiana, Kansas, Kentucky, Louisiana, Maryland, Minnesota, Missouri, Mississippi, Montana, New Mexico, New York, North Carolina, Oklahoma, Rhode Island, South Carolina, South Dakota, Tennessee, Texas, Utah, Vermont*, Virginia, Washington, West Virginia and Wyoming.
Many additional states plan on participating but are not able to at this time due to the requirement of a legislative rule change period. We will share information as additional states join the program in the future.
If you have questions about your state participating, please contact your state animal health official. Contact information for each state may be found here: https://releasecandidate-company-website.globalvetlink.com/resource-center/regulations/.
*Vermont only participates May 1 – October 31.
Find a GVL Veterinarian Near You
Ask your veterinarian if they offer GVL EECVIs for the convenience of traveling with horses. To find a veterinarian in your area, use our free Find-A-Vet search tool. If your animal health practitioner is not listed, ask them to subscribe to GVL, or contact us to let us know the clinic name, contact and location.
The new GVL Pet TravelPass take the anxiety and guesswork out of domestic and international pet travel. Check out this post to learn more.
Check out the August Support Report from our Customer Success Team!
We're looking forward to WVC! Are you attending? Connect with us at booth 1023.